Many facial concerns can be significantly improved with non-surgical cosmetic treatments. Our Sacramento medical spa offers a variety of treatments and procedures for facial rejuvenation without incisions or lengthy downtime. Dr. Hause can evaluate your complexion and determine the best cosmetic treatment(s) to give you a youthful appearance with reduced signs of aging and minimize other concerns, such as acne scarring.
What are the Benefits of a Medical Spa Services?
One of the most important benefits of our medical spa is the fact that the treatments offered there often require no downtime or recovery. Patients at Sacramento Aesthetic Surgery can improve troublesome areas over the lunch hour and return to the office or go about regular activities after cosmetic treatment. Medical spa services are less costly than plastic surgery, and many options allow you to enhance your natural beauty inconspicuously.
Why Choose The Medical Spa at Sacramento Aesthetic Surgery?
Our medical spa is overseen by Dr. Hause, a board-certified plastic surgeon. He and our skilled team provide safe and effective cosmetic treatments in a clean, welcoming atmosphere. You want a medical spa with an APBS-certified physician overseeing and administering treatments, because plastic surgeons are trained in surgical and non-surgical procedures.
Dr. Hause has intricate knowledge of the face and body's structures and connective tissues, and he understands how to achieve your desired results safely. If you choose a dermal filler or Botox, Dr. Hause has the skill, knowledge and experience to know how much of the injectable is needed to deliver natural-looking results. 
When you choose a medical spa run by a board-certified plastic surgeon, you can trust that you are in excellent hands. Dr. Hause can determine which facial rejuvenation or body shaping treatments will work best for your needs.
Medical Spa Services We Offer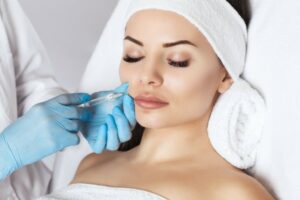 Medical spa treatments can work effectively on their own as follow-up care after facial plastic surgery or a body procedure. Dr. Hause offers these medical spa services and more:
Botox: This injectable has been an effective tool against dynamic wrinkles for decades and works to reduce frown lines, forehead creases, crow's feet and other signs of aging caused by repetitive facial expressions.
Juvéderm Volume Enhancement: This family of hyaluronic acid dermal fillers restores lost facial volume and smooths static lines and wrinkles for multiple facial areas, including the tear troughs, cheeks, lips and lines and wrinkles around the eyes, nose, mouth and chin.
Lip Augmentation: Dr. Hause offers lip enhancement using FDA-approved dermal fillers to address thin lips and perioral lines above the upper lip. He will customize your lip augmentation to give you your desired pucker.
In-House Medical Aesthetician Offerings: Our team provides various skin care products, including Obagi Medical and other exclusive lines, post-surgical edema treatment, scar reduction and medical tattooing.
Cellfina: This FDA-approved procedure is the only cellulite treatment that works effectively to reduce the appearance of skin dimpling in the buttocks and thighs using a minimally invasive technology.
TempSure Envi: For non-surgical skin tightening, TempSure Envi uses radiofrequency energy to heat the skin and trigger your body's natural healing response to produce more collagen that gradually creates tighter, more dense skin tissues.
J-Plasma Treatments: Often used during surgery as an alternative cauterizing technology to stop bleeding, J-Plasma treatments can work for patients who wish to improve their skin tone and complexion to trigger new collagen and skin repair.
Contact the Medical Spa at Sacramento Aesthetic Surgery Today
If you are interested in non-surgical or minimally invasive treatments, contact our office to schedule your appointment with Dr. Hause today by calling (916) 646-6869 or emailing us.