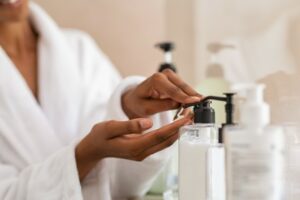 Taking care of your skin throughout your life is the best way to prevent premature aging and other skin concerns. Dr. Donald Hause of Sacramento Aesthetic Surgery offers a range of quality skincare products to his plastic surgery patients. Your skin care regimen is an essential part of maintaining a youthful complexion, and it's even more vital after a plastic surgery procedure. 
Dr. Hause provides these product lines to improve skin concerns and prevent future issues:
Obagi Medical
The Obagi Medical skincare line offers products that preserve and protect your skin health and help you to avoid premature aging. The product line is designed to treat various skin conditions, from age spots to loose skin and hyperpigmentation. These rejuvenating products increase collagen production, reduce acne flare-ups and help your skin look more radiant and youthful using prescription-strength formulas. Dr. Hause and his skincare team will examine your skin quality and characteristics and discuss your aesthetic concerns to create a personalized regimen for your face and body.
Jane Iredale Makeup, "The Skin Care" Makeup Line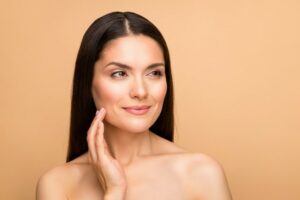 Jane Iredale Makeup was created to benefit your skin and cover up imperfections. The mineral-based products provide excellent coverage while also protecting you from airborne pollutants. The makeup line includes various shades for all skin types and includes foundation, powder, concealer, eye shadow, eyeliners, blushes and more. These products offer UVA protection without clogging pores and are water-resistant, oil-free, hypoallergenic, and have anti-inflammatory properties.
Therapon Skin Health
Therapon Skin Health helps keep your skin looking healthy, young and vibrant through three product lines:
Theraderm maintains your youthful skin by counteracting fine lines, rough-dry skin, sun damage and other signs of premature aging.
Eternox offers an anti-aging skincare system with natural antioxidants, micronutrients and peptides that stimulate collagen production to strengthen skin and minimize wrinkles.
Reversion eliminates existing acne and works to prevent further breakouts with a regimen proven to get rid of 99.9 percent of bacteria on the skin for up to 12 hours.
J-Plasma
J Plasma offers a revolutionary option that can tighten the skin in certain areas and eliminate the need for some plastic surgeries. The technology provides a minimally invasive technique to tighten skin tissues and resurface the skin using helium and radiofrequency energy. The combination creates a plasma that stimulates your body's tissues to contract, forming new collagen with minimal damage to surrounding tissues. J-Plasma can be used for the face, neck, upper arm, abdomen, inner thigh and other body areas.
Learn More About Medical Skin Care at Sacramento Aesthetic Surgery
If you're interested in better skin health using these products and technologies, contact Sacramento Aesthetic Surgery at (916) 646-6869.
For more information about our skincare services, visit Sacramento Medical Spa.